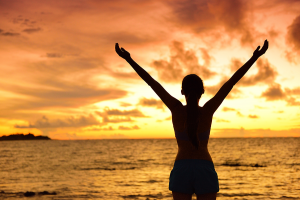 It's a new year and with that comes the collective optimism associated with a clean slate. However, it's widely known that most New Year's resolutions don't survive. Within weeks (if not days), the declarations fade in intensity as most of us will settle back into known routines.
For some, though they laugh it off, guilt sets in as they count it as personal failure. However, there is no failure if one makes the choice to begin again. To engage your inner fire and try again to do what's best for you is always victorious. Beyond all resolutions, is one that matters most.
 Tweet this: Resolve to rise. 
"How to Create the Life You Really Want: 20 Small strategies for Big Changes" FREE e-book!
Visit me on Periscope to get your weekday 1MinuteMantra or get the NEW 1MinuteMantra app here!
Check out my online course, SoulScripting, if you're looking to start living a more inspired life.